Sutton Coldfield
Town Centre Trail Map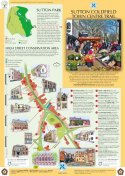 Members of Sutton Coldfield Civic Society have created a specially printed leaflet which plots a trail round the Town Centre and shows illustrations of the most historically interesting buildings in Sutton Coldfield.
The pictures were drawn by the late Mr Alan Green and the accompanying notes written by Mr Roger Lea, Chair of Sutton Coldfield's Local History Research Group.
The Trail starts to the north of the Town Centre on the Lichfield Road, with Bishop Vesey's School and continues down the historic High Street, Coleshill Street and Mill Street, now a conservation Area. It continues across the Parade to the Birmingham Road and ends at the Horse and Jockey Public House..
There is an additional map of the High Street Conservation Area with drawings and historic details of 12 buildings within the area.
The Society hope that this Town Trail will encourage both locals and visitors to take a fresh look at Sutton Coldfield's impressive heritage and to appreciate the special character of the town.
The leaflet's 2nd edition was funded from the Community Chest and the 3rd edition by the Town Centre Business Improvement District. We are very grateful for this support.
Copies are available at our indoor meetings during our Autumn /Winter season (please click on the Winter Programme link for details) or by emailing us via our Contact Form with your address.